Buying a Jupiter Island Condo
Echo Fine Properties' Complete Guide to Buying a Condo in Jupiter Island, Florida
Here at Echo Fine Properties we have been selling homes and condos in South Florida since 2001. We have extensive experience representing both buyers and sellers of condos in stunning Jupiter Island.
Sitting between the historic Jupiter Lighthouse and the entrance to Jupiter Island sit 19 condominium buildings just moments away from both the Atlantic Ocean & the Intracoastal Waterway (ICW) in Tequesta, Florida.
These 19 buildings are found on just over a mile of waterfront with some of the finest views in the United States. The Intracoastal bridge to Jupiter Island is gorgeous. To the south is the Jupiter Lighthouse and the north offers amazing glacier-blue waters that are a boater's dream. A fisherman's paradise is on the bridge itself and boaters dock by the east side to play in the shallow waters. The east side of Beach Road is on the Atlantic Ocean.
Many of the condos have private beaches. Some residents have their own boat docks and belong to the JIB Club. A fair amount of the buildings have private doormen, exercise rooms, indoor parking, and community pools. The Carlyle, Passages and Claridge are the most prestigious and luxurious of the 18 buildings. Downtown Tequesta is just across the Jupiter Island bridge and is home to some of the finest seafood eateries in the United States. These Jupiter Island Condos are noted for their tranquility and privacy.
Later in this article we will delve deeper into these wonderful Jupiter Island buildings. First, we want to give you as much information as you will need when considering buying Real Estate, specifically a condo, in Jupiter Island.
Expertise
What Is A Condo?
Condo Documents
Expenses and Insurance
Mortgage Finance
Management and HOA/COA
Choosing A Lender
Ready to Learn More About Jupiter Island Condos?
Afterwards, please find our detailed descriptions about the following Jupiter Island Condos:
Beach Sound
Blowing Rock
Carlyle
Claridge
Cliveden
Island House
La Mar
Lykes Landing
Ocean Sound
Ocean Towers
Ocean Villas
Sea Glass
Seamist
Seawatch
Tequesta Towers
The JIB Club
The Landfall
The Passages
The Regency
Expertise
Like every great team, Echo Fine Properties is full of professionals who specialize in a particular area and field. When buying or selling a condo, you want to be assured that your realtor is truly the best representative, with the most accurate knowledge of the market and relevant experience. We know that you want an agent who knows this particular area like the back of their hand – who knows the best beaches for relaxing, water sports, or dog walking, which buildings have the best sunset views, which are the most luxurious buildings and those that are best value for money. You also want an agent with experience negotiating condo contracts, and knowledge of condo-specific financing arrangements, and HOA management. We know that a great agent is a specialist in their field, and that when you are buying or selling a condo you want and need that specialist.
At Echo, two client concierges respond to all our leads, and conduct interviews to match the right realtor to the right buyer or seller. We have agents that specialize in golf course properties, waterfront estates, and equestrian properties. When it comes to buying a condo in West Palm Beach, we have specialists for that too. As owner Jeff Lichtenstein notes, "Our agents are first and foremost handpicked, have the finest professional credentials, and know the area like the back of their hand. Our job is to assist them so they can fully concentrate on the client"
What is a condo?
Firstly, you may believe that a condo is a type or style of home – like an apartment within a shared building. However a condo is in fact a legal form of ownership of a property. With a condo the land, and usually the structure of the building is owned by the collective, and the living space itself is owned by the individual. So you will own the space within your walls, and share ownership of the common areas with the other condo owners.
The rights of the individual condo owners can vary depending upon the language in the condo documents, and the governing policies of the building itself. Unlike a typical single-family home, condo owners do not have land or air rights. If you discovered oil underneath your condo building each owner would be entitled to a share of the oil in a collective manner, depending upon those condo documents. Hence why it's so important to be represented by a realtor who knows the ins and outs of the various condominium contracts!
Condo Documents
The 'Condo Docs' contain 3 separate parts: The Declaration, Bylaws, and Budget. These are put together by whoever has developed the property and formed the condominium and are designed to break down every part of the condo and make clear who owns what, what rights each owner has, and the budget information. These documents must be approved by a regulatory board to ensure that all comply with strict rules and regulations. These rules and regulations are generally written in favor of and for the protection of the buyers rather than the developers.
Declaration – The declaration is a legal document laying out the details of the condominium. It will include information such as who owns what, the location, any surveys and plans of the building, who is responsible for maintenance, and who is entitled to use the various parts.
Bylaws – The bylaws are a set of rules by which the condo will be governed, almost like a 'constitution'. It sets out how the condo is governed, how officers are elected, and how the people are allowed to use the building. For example, the bylaws may contain information about what percentage of owners would have to vote 'yes' to make a change to a rule, or whether to allow pets.
Budget – The budget contains important information about the dues that the condo will collect from each owner. The dues will normally go towards maintenance of common areas, bills, and reserve funds for any future repairs or replacements of items such as windows, roofs, and parking lots. It is important that good condo management ensures that enough money is collected in the HOA for these replacements and repairs.
Expenses and Insurance
As mentioned above, since the condominium is partly owned by all condo owners, many of the communal structures must be paid for collectively. All the condo owners will pay into a shared condo account to maintain, repair, or replace items such as exterior walls, painting, landscaping, hallways, parking lots, and the roof. It is important to know exactly what HOA dues you will be paying, and what these dues cover.
Some of the fees will go towards insuring the building. As a condo owner you are only responsible for ensuring your own unit – the HOA is responsible for ensuring everything else. Therefore it is also important to consider that your insurance payment is likely to be far less that the insurance on a single-family home, as much is paid for by the association.
Mortgage Finance
Since 2009, obtaining a loan on a condo has been nearly impossible. In fact, only 6 buildings out of 193 in Palm Beach County are approved by FHA. However, a recent major new housing loan change means that buyers can now get a loan for condos for the first time in 10 years! If your building qualifies, the expanded options available are:
FHA Finance – 3.5% down, with flexible credit guidelines, Max loan amount: $356,500
Conventional Finance – 3-5% down on primary, 10% down on secondary, and 15% down on investment property. Max loan amount: $484,350
Jumbo Finance – 5% down, up to $2Million
Bear in mind, applying for a loan for a condo is different in many ways to applying for a single-family home loan. Many rules come into effect, and the bank will be looking at a long list of variables when it considers your application. For example, some considerations include:
If one person owns more than 10% of units
If there are rental restrictions or not
If the condo has more than 15% dedicated to commercial use
If a new condo has not pre-sold anywhere from 30% to 70% of units.
Loans may also vary depending upon whether the condo is newly built, a conversion, owner-occupied, or investor owned.
Management and HOA/COA
Condos need management. Most condos will hire a company to manage the HOA (Home Owners Association) or COA (Condo Owners Association) and take care of all the day-to-day needs and operations. They will take care of keeping the shared areas clean, make sure things such as elevators work, and of course make sure that the condo owners keep up with their payments. They will also need to manage the dues and make sure that they keep up with inflation to make sure there is always enough money in the reserve account.
Sometimes, the condo officers will choose to self-manage the HOA rather than pay to hire an outside company, in order to save money. While this can save money in the short term, it can often prove costly in the long term as often their lack of knowledge and expertise can result in the condo falling into a non-warrantable condition which will prevent sales and drive down property values. It is very important to review the condo management when you are looking at various condo options.
Choosing a Lender
It is very important to choose an excellent, experienced condo lender. You will want to look for a lender who truly knows how to finance a condo, who knows all the rules, has a great condo underwriting department, and knows the appropriate appraisers. At Echo Fine Properties we are more than happy to make a recommendation and point you towards the perfect lender for your needs.
Ready to learn more about Jupiter Island Condos?
Now you know all about the process of buying a condo, it's time to explore the gorgeous condos of West Palm Beach! We hope you can now make an informed, educated decision about this very important Real Estate process. Do you already know where in West Palm Beach you want to live? Or would you like a little more info?
Read on to find out more about those stunning Jupiter Island Condos.
Beach Sound
Beach Sound is a charming and unique oceanfront condominium with only 12 units.  The location couldn't be more ideal.  These condos face directly onto the ocean.  This means that the four story building located at 19930 Beach Road offers each resident a corner view with wraparound balcony.  Amenities include an enclosed garage, parking heated pool and common boat dockage in the Indian River Lagoon (Intracoastal Waterway) to the west.  The units were built in 1984 and are 1,328 square feet.
View Current Condos For Sale in Beach Sound
Blowing Rock
These Jupiter Island Condos range in size from 1,200 to around 1,500 feet and were built in 1968 and have covered parking, a must in south Florida. While they offer only 2 bedrooms, the real attraction is the direct ocean view. Go to sleep to the sound of the waves breaking on shore.  The Blowing Rocks Club at 1500 Beach Road is the first condo south of Coral Cove with just 10 units in total.
View Current Condos For Sale in Blowing Rock
Carlyle
The Carlyle is the perfect place to call home. Upon arrival, the first class staff at the Carlyle will treat you like you royalty. The Carlyle is home to only twenty six residents which allows the staff at the Carlyle to intimately know their "guests" and cater to each of their own desires. Each of the units has a 2 car garage and the penthouse itself has its own 3-car garage. The Carlyle is filled with many other amenities such as a building generator, water filtration system, hot water recovery circulation, gathering/reading/living room area, sauna, and private resort style pool with private cabana bath available for purchase. The Atlantic ocean waterfront property beach is for the residents only and access is steps away.
View Current Condos For Sale in Carlyle
Claridge
The Claridge offers the ultimate in luxurious living with 8 floors and just 2 units per floor. Built in 1994, these condos are 3,500 square feet with 3 bedrooms and 3 or 4 full baths and 10-foot ceilings. Once you arrive at your 2-car, air-conditioned garage, private elevators take you to your home with state-of-the-art kitchens and fine stone counters, stainless steel appliances, marble floors, and views of the ocean or Intracoastal from every room. The 2 penthouse homes have spiral staircases from the wraparound balconies that take you up to your private sky-is-your-ceiling patio with wet bar, and here you will find what is without question the best view of Jupiter Island.
View Current Condos For Sale in Claridge
Cliveden
The Cliveden offers luxury living offered in only a couple of other condo locations. Only 10 stories high and with only 2 homes per floor, you will be treated to luxury from the minute you find your air-conditioned parking spaces. A licensed, live-in manager is always there to make sure things are just as you would expect from these fabulous Jupiter Island Condos. Inside the decorator lobby you will find other amenities like a state-of-the-art exercise room, club room, heated pool, and Jacuzzi. Arriving at your residence, the luxury continues with 10-foot ceilings in the 3 bedroom, 3 or 4 baths units that offer 2,750 square feet of living space. Marble floors, state-of-the-art kitchens with custom cabinetry, Jacuzzis, and seamless glass shower doors complete the package.
View all Condos For Sale in Cliveden
Island House
LOCATION LOCATION LOCATION !!! The condos of Island House are just steps to the beautiful cerulean waters of the Atlantic Ocean and yellow coral-sand beaches. You may find your new beach home in these 2 intimate oceanfront buildings. Island House Northeast has only 27 units while Island House Southeast has 22 apartments. Each condominium tower spans 5 floors. Bring your boat; as the community has private deeded docks with 32′ boat slips available for your use at no extra charge, perfect for hitting the ocean with just 1/4 mile to the famed Jupiter inlet. Island House has perfectly manicured grounds, heated pool, and community grill surrounded by tropical vegetation. Covered parking and ample storage lockers and a private picnic area make this the perfect retreat.
View all Condos For Sale in Island House
La Mar
These Jupiter Island Condos are a limited 32 units spanning 9 floors into the sky. Situated on this unique Intracoastal location, the development has across the street beach access, dock space available for a boat up to 23', and views of the Intracoastal Waterway and the historic, 150-year-old Jupiter Island Lighthouse. Divosta, one of the signature quality builders in Jupiter, built these 2 bedrooms, 2 bath condos totaling over 1500 square feet under air with an open & spacious feel in mind. Windows were utilized in every room, including the kitchen, to capture the captivating views. The great room floorplans were way ahead of their time. Amenities and extras include a community pool with gas grill available, extra storage, convenient parking, updated lobby, two 2006 elevators, and new balconies.
View all Condos For Sale in La Mar
Lykes Landing
Lykes Landing could never get built today. However, four fortunate and lucky residents who reside at 19969 Beach Read get to call this spot in paradise home. Lykes Landing Townhomes are just 4 residential units built on the Intracoastal Waterway. Constructed in 1994, these homes have fabulous views of the Intracoastal and the cerulean waters of the Atlantic Ocean. The development has its own private dock, elevator, roof-top terrace, and community pool. Units themselves are 3 bedroom floor plans with between 3000-3600 square feet with lots of marble, granite, crown molding and luxury appointments.
View all Condos For Sale in Lykes Landing
Ocean Sound
The Ocean Sound Condos are 3 bedroom, 2 or 3 bath floorplans with 2,800 square feet of living space. Located directly on the ocean, the building gets its name from the fact that the sound of the ocean is a part of daily life. There are 8 floors with 28 total units in the building, as well as a pool and BBQ area outside. Built in 1981, most of the units are upgraded to feature stone floors and gourmet kitchens with stainless steel appliances, but the real attraction is the fact that all units face the ocean. Your views of the sunrise over the crystal clear waters of the Atlantic will be unobstructed.
View All Condos For Sale in Ocean Sound
Ocean Towers
The 30 condos in Ocean Towers sit well back from the road with direct ocean views and beach access to the east and the covered parking on the west side of the building. All units have oceanfront panoramas with the clear Atlantic water stretching to the horizon. Each three bedroom, three bath unit is between 1,800 and 2,300 square feet in size and those on ends of the building have wraparound balconies, some with ocean and lighthouse views. Another nice feature of Ocean Towers is the relatively low HOA fees. In addition to the covered parking, these wonderful condos feature a car wash, decorator lobby, large storage facilities, and a heated pool.
View all Condos For Sale in Ocean Towers
Ocean Villas
One of the nicest places to live on Jupiter Island is Ocean Villas. These condos are special because of the incredible location on the southern end of the island with the still waters of the Intracoastal flowing gently behind your home and the JIB Club with its intimate marina filled with yachts right out your front door.  The heated pool and day dock with fishing pier will enhance your waterfront location here. Should you decide to enjoy the warm Atlantic water, you have a deeded access to the Jupiter Island beaches. These two bedroom, two bath units have about 1,200 square feet in them, but that's really all you need to enjoy the fabulous Jupiter Island and Tequesta lifestyle.
View all Condos For Sale in Ocean Villas
Sea Glass
Sea Glass is a boutique community of 21 luxurious private residences.  It's the first new construction development in almost 20 years in the stretch of Jupiter Island Condos on Beach Road. Residents can indulge in amenities that include an exercise room plus a facility that includes yoga and Pilates, a marina, concierge plus valet parking, and a social area where you can meet with fellow residents and also entertain your guests.
View all Condos For Sale in Sea Glass
Seamist
The 5-building complex known as Seamist is located near the south end of the Island on the Intracoastal Waterway side. The complex is imaginatively laid out on nearly 4 acres with a large central courtyard and with the buildings staggered to break up the sight lines. Tropical flowers abounding the entire landscape with water views has been beautifully maintained. The 35-unit complex offers 30 units with dockage on the Intracoastal and storage lockers near each dock. Fishing in the Atlantic is just a 5-minute boat ride out the Jupiter Inlet. The pool is located near the water, too, so you can sit around the pool and enjoy sunsets over the water and the famous, 150-year-old Jupiter Lighthouse in the distance. The two and three bedroom units offer either 1,350 or 1,800 square feet of living space and each unit has a screened porch facing the courtyard. Covered parking is provided for the residents. Another interesting feature is that these units have 9 foot ceilings.
View All Condos For Sale in Seamist
Seawatch
Although there are more than a dozen condominium buildings on Jupiter Island, one of the most luxurious is Seawatch. Your sunrise views will be fabulous as you enjoy coffee from your balcony and in the evening your balcony on the west side will give you views of the sunset over the Intracoastal Waterway and the famous 150-year-old Jupiter Lighthouse. The two and three bedroom condos have from 2,300 to over 3,000 square feet of living space. As one of Jupiter Island's most luxurious buildings, you will find underground parking, tennis courts, a pool, and day docks right on the Intracoastal. Most of these luxurious units will have upgrades like marble floors, granite counters, and new lighting. Other amenities include 24-hour security, pool & spa, exercise room, library, tennis, and billiards. Of course, the real attraction will still be the unparalleled views.
View all Condos For Sale in Seawatch
Tequesta Towers
Tequesta Towers is a tall building with 11 floors and 4 units per floor. These higher floors will have sunrise views of the Atlantic and sunset views over the Intracoastal Waterway with the famous 150-year-old Jupiter Lighthouse. Amenities at the building include new balconies and railings, new paver driveway and parking area, underground parking, pool, outside grilling area, new landscaping, new lobby, and new elevator cabs. And in such a luxurious building, units will typically have upgrades like granite counters, marble or hardwood floors, crown molding, and stainless steel appliances. Those units located at 400 Beach Road on the north end of the building have unobstructed views north up Jupiter Island, since there is no building on the north side, and you will overlook Coral Cove Park with its guarded beaches.
View all Condos For Sale in Tequesta Towers
The JIB Club
The JIB Club Condos were built in the early 1980's and offers 21 units with square footage that ranges between 2,275 and 3,105. Enjoy the breathtaking views of the ocean and the Intracoastal from your home and balcony. Features you might find within these condos include split level bedrooms, eat in kitchens, wraparound balconies, and a bar. With luxurious condominium living comes wonderful amenities, here you have access to a community room, swimming pool, library, spa, and you also have access to the JIB Club and Marina which is great news for the boating enthusiasts.
View all Condos For Sale in The JIB Club
The Landfall
The Landfall is an 8-story building with 4 homes of 2,675 square feet on each floor. This means everyone has a corner unit with water views, either the Atlantic Ocean or the Intracoastal Waterway or the Indian River Lagoon. The floorplans are 3 bedrooms and 3 baths and each bedroom has its own balcony. The spacious balconies are perfect for dining alfresco during the fabulous winter weather we have here. Most of the condos in The Landfall have been upgraded and will have stone or wooden floors, granite counters, top-of-the-line stainless steel appliances, and possibly plantation shutters. Units on the south side of the building will have views of the famous 150-year-old Jupiter Lighthouse which is still in operation.
View all Condos For Sale in The Landfall
The Passages
Condos in The Passages on Jupiter Island are located near the southern end of the Island. There are 6 units per floor and 7 floors in the building, all with direct ocean views. The floorplans are three bedroom, three and a half baths with around 2,800 square feet of living area. The tower is located at 19750 Beach Road and the building amenities include 24-hour manned security, club room, garage parking, semi-private elevator, and pool/spa. The real feature here, though, is the fact that the beaches are never crowded and the views of the ocean are always incredible.
View all Condos For Sale in The Passages
The Regency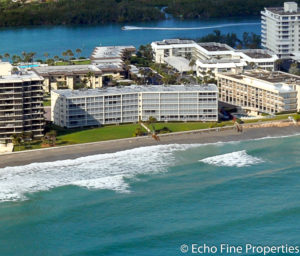 Condos in The Regency are located at 250 Beach Road near the southern end of the Island and all 40 units in the 8-story building face directly onto the ocean. Views to the east look over the Intracoastal Waterway, a natural preserve area, and the famous 150-year-old Jupiter Lighthouse is visible from the higher floors. The two and three bedroom, two baths units have around 1,300 – 1,500 square feet of living space. Amenities include a paver driveway, large heated pool, covered parking, personal storage rooms, and a newly decorated lobby. Many of these condos will have upgrades like granite counters and stainless steel appliances.
View All Condos For Sale in The Regency
Sophie was extremely professional and knowledgeable about the area. She never wasted our time with upselling or showing us what we didn't want....
Read More >
We have rented a condo in Palm Beach Gardens at the Landmark and will move in mid December.  I wanted to tell you how much I appreciate your...
Read More >
It was a great experience and I would highly recommend my agent Sophie to my friends and colleagues.
Read More >
Home ECHOnomics...57 Guarantees When You List With Us
With our Home ECHOnomics Guarantee of 57 promises to make sure everything that is supposed to happen, happens, you'll have the best in your corner. So let the Joy, the Beauty, the Logic and the Power of Home ECHOnomics work for you.
How Much Is
My House Worth?
Determine your home's estimated value based on recent home sales in your area
Powered by BoldLeads