Buying a West Palm Beach Condo
Echo Fine Properties' Complete Guide to Buying a Condo in West Palm Beach, Florida
The team at Echo Fine Properties have been selling homes and condos in South Florida since 2001. We have extensive experience representing both buyers and sellers of condos in beautiful West Palm Beach in particular.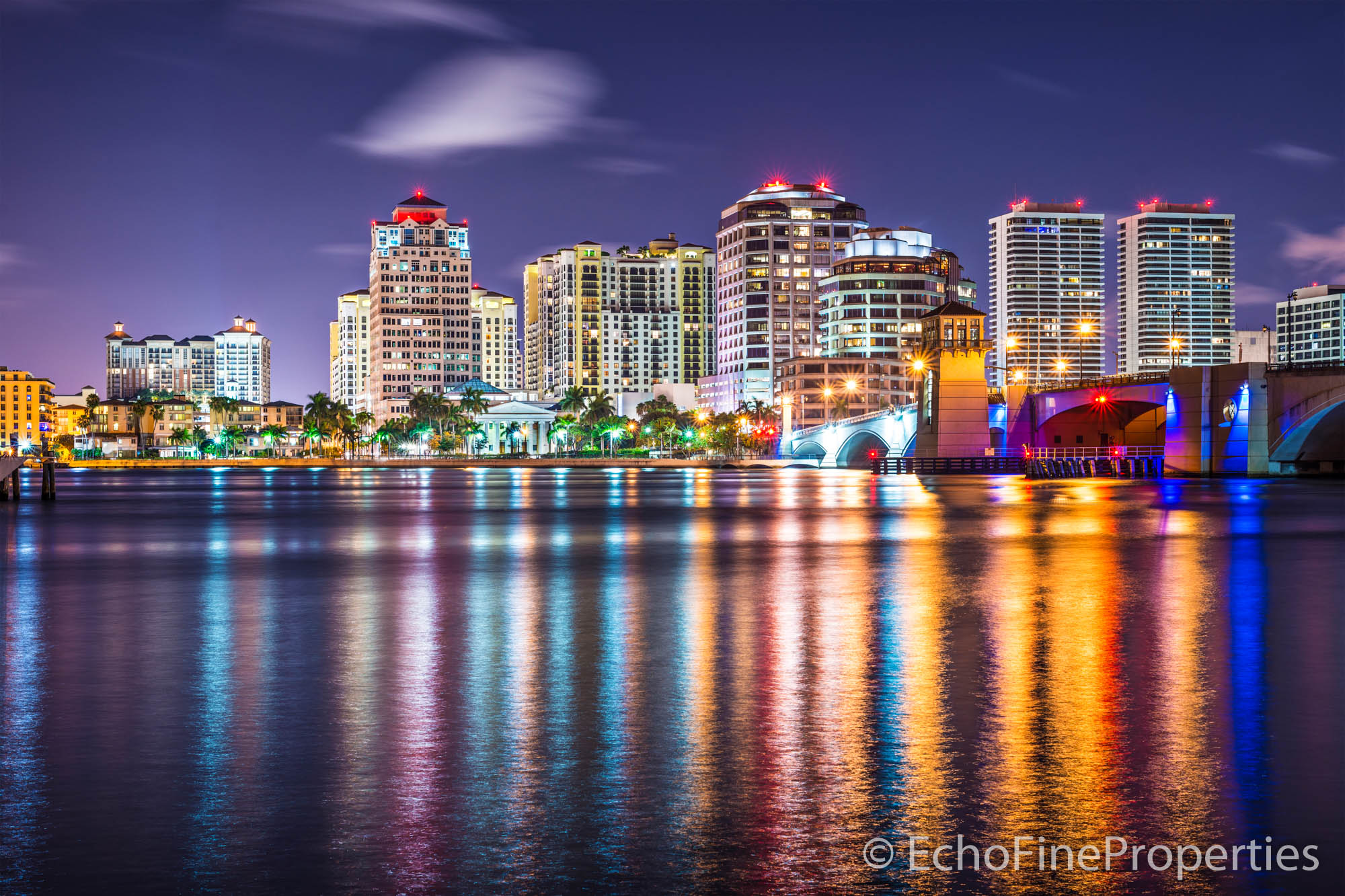 Whether you are looking for a home right on the waterfront or in the center of downtown, West Palm Beach has the condo for you. Water and city views abound, and luxury buildings with outstanding communities are the norm. Condo living in downtown West Palm Beach is perfect for those who like to be in the center of all the action, and enjoy an eclectic, vibrant city atmosphere.
One of the most famous buildings, Once City Plaza, is one of the taller buildings in the area with 16 stories. The rooftop pool offers spectacular panoramic views of the area. Nearby, you'll find several other notable condo communities such as:
101 Lofts
CityPlace South Tower
Flagler Landing
One Watermark Place
The Slade
Trump Plaza
Later in this article we will delve deeper into these wonderful West Palm Beach communities. First, we want to give you as much information as you will need when considering buying Real Estate, specifically a condo, in West Palm Beach Florida.
Expertise
What Is A Condo?
Condo Documents
Expenses and Insurance
Mortgage Finance
Management and HOA/COA
Choosing A Lender
Ready to Learn More About West Palm Beach Condos?
Afterwards, please find our detailed descriptions about the following West Palm Beach Condos:
101 Lofts

Two City Plaza

610 Clematis
Century Village
City Palms
City Plaza
CityPlace Courtyards
CityPlace South Tower
CityPlace Tower
Cresthaven
Edge
Esperante
Esplanade Grande
Flagler Landing
Flagler Pointe
Metropolitan
Montecito Palm Beach
One Watermark Place

One Watermark Place

Prado West Palm Beach
Rapallo North
Rapallo South
Slade
The Bristol
The Strand
The Whitney
Trump Plaza
Villa Lofts
Waterview Towers
Expertise
Like every great team, Echo Fine Properties is full of professionals who specialize in a particular area and field. When buying or selling a condo, you want to be assured that your realtor is truly the best representative, with the most accurate knowledge of the market and relevant experience. We know that you want an agent who knows this particular city like the back of their hand – who knows the best bus routes and markets, which buildings have the best sunset views, which are the most luxurious buildings and those that are best value for money, and where you can find the best breakfast in walking distance from your new home! You also want an agent with experience negotiating condo contracts, and knowledge of condo-specific financing arrangements, and HOA management. We know that a great agent is a specialist in their field, and that when you are buying or selling a condo you want and need that specialist.
At Echo, two client concierges respond to all our leads, and conduct interviews to match the right realtor to the right buyer or seller. We have agents that specialize in golf course properties, waterfront estates, and equestrian properties. When it comes to buying a condo in West Palm Beach, we have specialists for that too. As owner Jeff Lichtenstein notes, "Our agents are first and foremost handpicked, have the finest professional credentials, and know the area like the back of their hand. Our job is to assist them so they can fully concentrate on the client"
What is a condo?
Firstly, you may believe that a condo is a type or style of home – like an apartment within a shared building. However a condo is in fact a legal form of ownership of a property. With a condo the land, and usually the structure of the building is owned by the collective, and the living space itself is owned by the individual. So you will own the space within your walls, and share ownership of the common areas with the other condo owners.
The rights of the individual condo owners can vary depending upon the language in the condo documents, and the governing policies of the building itself. Unlike a typical single-family home, condo owners do not have land or air rights. If you discovered oil underneath your condo building each owner would be entitled to a share of the oil in a collective manner, depending upon those condo documents. Hence why it's so important to be represented by a realtor who knows the ins and outs of the various condominium contracts!
Condo Documents
The 'Condo Docs' contain 3 separate parts: The Declaration, Bylaws, and Budget. These are put together by whoever has developed the property and formed the condominium and are designed to break down every part of the condo and make clear who owns what, what rights each owner has, and the budget information. These documents must be approved by a regulatory board to ensure that all comply with strict rules and regulations. These rules and regulations are generally written in favor of and for the protection of the buyers rather than the developers.
Declaration – The declaration is a legal document laying out the details of the condominium. It will include information such as who owns what, the location, any surveys and plans of the building, who is responsible for maintenance, and who is entitled to use the various parts.
Bylaws – The bylaws are a set of rules by which the condo will be governed, almost like a 'constitution'. It sets out how the condo is governed, how officers are elected, and how the people are allowed to use the building. For example, the bylaws may contain information about what percentage of owners would have to vote 'yes' to make a change to a rule, or whether to allow pets.
Budget – The budget contains important information about the dues that the condo will collect from each owner. The dues will normally go towards maintenance of common areas, bills, and reserve funds for any future repairs or replacements of items such as windows, roofs, and parking lots. It is important that good condo management ensures that enough money is collected in the HOA for these replacements and repairs.
Expenses and Insurance
As mentioned above, since the condominium is partly owned by all condo owners, many of the communal structures must be paid for collectively. All the condo owners will pay into a shared condo account to maintain, repair, or replace items such as exterior walls, painting, landscaping, hallways, parking lots, and the roof. It is important to know exactly what HOA dues you will be paying, and what these dues cover.
Some of the fees will go towards insuring the building. As a condo owner you are only responsible for ensuring your own unit – the HOA is responsible for ensuring everything else. Therefore it is also important to consider that your insurance payment is likely to be far less that the insurance on a single-family home, as much is paid for by the association.
Mortgage Finance
Since 2009, obtaining a loan on a condo has been nearly impossible. In fact, only 6 buildings out of 193 in Palm Beach County are approved by FHA. However, a recent major new housing loan change means that buyers can now get a loan for condos for the first time in 10 years! If your building qualifies, the expanded options available are:
FHA Finance – 3.5% down, with flexible credit guidelines, Max loan amount: $356,500
Conventional Finance – 3-5% down on primary, 10% down on secondary, and 15% down on investment property. Max loan amount: $484,350
Jumbo Finance – 5% down, up to $2Million
Bear in mind, applying for a loan for a condo is different in many ways to applying for a single-family home loan. Many rules come into effect, and the bank will be looking at a long list of variables when it considers your application. For example, some considerations include:
If one person owns more than 10% of units
If there are rental restrictions or not
If the condo has more than 15% dedicated to commercial use
If a new condo has not pre-sold anywhere from 30% to 70% of units.
Loans may also vary depending upon whether the condo is newly built, a conversion, owner-occupied, or investor owned.
Management and HOA/COA
Condos need management. Most condos will hire a company to manage the HOA (Home Owners Association) or COA (Condo Owners Association) and take care of all the day-to-day needs and operations. They will take care of keeping the shared areas clean, make sure things such as elevators work, and of course make sure that the condo owners keep up with their payments. They will also need to manage the dues and make sure that they keep up with inflation to make sure there is always enough money in the reserve account.
Sometimes, the condo officers will choose to self-manage the HOA rather than pay to hire an outside company, in order to save money. While this can save money in the short term, it can often prove costly in the long term as often their lack of knowledge and expertise can result in the condo falling into a non-warrantable condition which will prevent sales and drive down property values. It is very important to review the condo management when you are looking at various condo options.
Choosing a Lender
It is very important to choose an excellent, experienced condo lender. You will want to look for a lender who truly knows how to finance a condo, who knows all the rules, has a great condo underwriting department, and knows the appropriate appraisers. At Echo Fine Properties we are more than happy to make a recommendation and point you towards the perfect lender for your needs.
Ready to learn more about West Palm Beach Condos?
Now you know all about the process of buying a condo, it's time to explore the gorgeous condos of West Palm Beach! We hope you can now make an informed, educated decision about this very important Real Estate process. Do you already know where in West Palm Beach you want to live? Or would you like a little more info?
Read on to find out more about those stunning West Palm Beach Condos.
101 Lofts
If you like to be in the center of the action you will love 101 Lofts. Located on historic Clematis Street and facing the downtown Waterfront Park, you will have a first-row seat for the many events that happen right outside your window, such as the Green Market, Clematis by Night, Screen on the Green, SunFest, Palm Beach Marathon, and many more. This 5-story building has flats and two-story lofts with floor-to-ceiling impact windows, garage parking, and secure access.
View Current Condos For Sale in 101 Lofts
610 Clematis
Located on one of the most exciting streets in West Palm Beach, 610 Clematis offers the lifestyle most people can only dream of. Walk to the shops of CityPlace or dine at one of the many fabulous restaurants on Clematis Street. This pet-friendly building, which was finished in 2006, consist of 8 floors and 246 residences. Enjoy the peaceful Zen gardens, grill in the BBQ area, or lounge on the pool deck by the beautiful infinity pool. There is also a spa, sauna, steam room, and fully-equipped fitness center.
View Current Condos For Sale in 610 Clematis
Century Village
This 55+ community has plenty to do and offers super-affordable living for an active person. The complex has 7,800 condos with easy access to upscale shopping and restaurants. The amenities feature a clubhouse, pools, tennis, shuffleboard, library, sauna, and exercise room. These West Palm Beach condos feature 1- and 2-bedroom units in low-rise buildings in the quiet western section of the city. The gated entry and well-designed green spaces makes this area safe and beautiful for residents and retirees.
View Current Condos For Sale in Century Village
City Palms
These newer condominiums were constructed in 2008 and are perfectly situated downtown off of Hibiscus Street. Enjoy the downtown lifestyle being in the center of culture, art, cuisine, and shopping. These condos have stunning views of the Intracoastal and the city, and range in size from 690-1500 square feet. The community offers a 24 hour doorman, valet, garage spaces, a resort style pool, billiards, and fitness center just to name a few. The condominiums are completely upgraded, offering Italian cabinetry, stainless steel appliances, quartz countertops and marble floors!
View Current Condos For Sale in City Palms
City Plaza
City Plaza consists of two high-rise buildings located in the heart of downtown West Palm Beach, within walking distance to some of the finest restaurants and entertainment options in south Florida. One City Plaza was built in 2006 and has 16 storys with 351 spectacular condos. Two City Plaza was completed in 2008, and offers 466 luxury condos over 21 storys.
City Plaza offers courtyard style surroundings with a variety of breath-taking views including a tranquil garden lanai, the stunning Atlantic Ocean and Intracoastal Waterway, and panoramic city skyline views.
Both buildings offer full-service, resort-style amenities, including a rooftop patio and pool deck with panoramic city and water views, steam and dry saunas, upscale club room, state-of-the-art fitness center, covered parking as well as complimentary valet, 24-hour front-desk security, on-site management, and bike storage. City Plaza Towers has residential condos for sale and rent as well as live-work units.
The HOA requires a $1,500 deposit for pets, but you are permitted 2 pets (with some breed restrictions) of any weight. The HOA includes basic cable and internet, water, 24-hour security, valet and concierge, along with maintenance of common areas including the fitness center, pool, sauna, steam rooms, and the social rooms with bars and other meeting spaces. If you are thinking about purchasing a condo in City Plaza in order to rent out, you should be aware that there are only two leases permitted per year, and each must be for a minimum of 6 months.
One City Plaza
The condos in One City Plaza are a mixture of traditional condos and some of West Palm Beach's most stylish loft apartments, ranging in size from approximately 800 square feet to 2600 square feet, and in price from less than $300,000 to more than $500,000. Choose from one bedroom with either one or one-and-a-half baths, or two bedrooms with two baths. You can expect luxury features in the condos such as marble countertops, gorgeous wood flooring, and beautifully carpeted bedrooms. In the lofts you'll find spectacular 26-foot ceilings, with floor to ceiling windows through which you can appreciate the stunning views of the Intracoastal.
View all Condos For Sale in One City Plaza
Two City Plaza
Two City Plaza offers 72 different floor-plans that range from the more modest condos up to seven-figure luxury apartments, so there is something here for every taste and every budget! As with One City Plaza, the condos have gorgeous finishes and luxury upgrades throughout such as large windows and entry foyers, which are not often found in South Florida condos. The fifth floor in Two City Plaza offers residents resort-style luxury amenities, including an indoor movie theater.
View all Condos For Sale in Two City Plaza
CityPlace Courtyards
These properties are in the heart of the city off of Sapodilla Avenue, only minutes away from shopping, dining, beaches and nightlife, this location is ideal. Courtyards in CityPlace are stylish and contemporary condos, while offering endless possibilities of resort style amenities to enjoy in the warm South Florida weather. Real estate here offers a 5 story condominium with 67 units that was CBS constructed in 2001. With city views, this downtown neighborhood is perfect! Enjoy the comfort of home, with a doorman, 24 hour valet, resort style pool, business center, fitness center and private screening room.
View all Condos For Sale in CityPlace Courtyards
CityPlace South Tower
These condos are ideally located off of Okeechobee Boulevard in West Palm Beach, Florida. Enjoy City Place South Towers being only minutes away from beaches, nightlife, dining, shopping, and highways. City Place South Towers were constructed in 2008 and offer homes ranging from the low 300s to upper 500s, depending on your needs. These West Palm Beach condos span from 790-1770 square feet with open floor plans and stunning ocean views, city views, and Intracoastal views from vast private terraces to take in Florida's fabulous weather. City Place South Towers also offer a 24 hour doorman, garage, clubhouse, resort style pool, barbecue area and spacious fitness center.
View all Condos For Sale in CityPlace South Tower
CityPlace Tower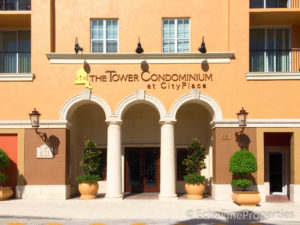 CityPlace Tower was built in 2001 and is located in the heart of downtown West Palm Beach. It consists of 12 floors and 144 condo residences in one of the best locations for downtown living. You are surrounded by restaurants, shopping, nightlife, and the entertainment of CityPlace and a short walk to the Kravis Center for the Performing Arts. Enjoy the vibrant city life or unwind in the tranquil courtyard setting with park benches and fountains. CityPlace Tower also has a resort-style pool with spa, fitness center, business center, 24-hour valet, and concierge service.
View all Condos For Sale in CityPlace Tower
Cresthaven
This 55+ community features single-story buildings that were built in the late 60s to early 70s with CBS construction. These West Palm Beach condos are part of an active neighborhood with a fitness center, pool, and common laundry for units that have not already been renovated with a laundry hook-up. Cresthaven is an affordable option for retirees who want to enjoy a central location, just minutes to upscale shopping, great restaurants, and beaches.
View All Condos For Sale in Cresthaven
Edge
The Edge is a landmark, modern tower that is part of the new landscape in West Palm Beach's beautiful downtown. Condos in The Edge feature amazing views of Clear Lake and the vibrant city center by day and night. These gorgeous condos have private balconies, volume ceilings, walk-in closets, and washer/dryer hook-ups. This 2007 building has incredible amenities, including a resort-style pool complex, clubhouse, fitness and business centers, 24-hour lobby attendant, and CBS construction. The 15-story building contains 307 condominiums and is located within walking or biking distance to the urban center, Clematis Street, Cityplace, and the city park on the Intracoastal Waterway.
View all Condos For Sale in The Edge
Esperante
The Esperante Condos are located at 222 Lake Avenue on the top floors of the Esperante Corporate Center, a 20-story tower in downtown West Palm Beach, with world-class conference and business facilities. Built in 1989, the building has an exceptional east-side location with amazing views of the Intracoastal Waterway, Palm Beach, and the city of West Palm Beach. Of course, you can walk to all the festivities and highlights of trendy Clematis Street, the City Commons waterfront park, the Mandel Public Library, Kravis Center, and downtown galleries and museums. The seven residential units are tri-level penthouses with over 2100 square feet of living space, private elevators, volume ceilings, and incredible views. The building has a stunning lobby that is fully-staffed. Parking is private and enclosed. Tower residents enjoy a state-of-the-art fitness center, concierge services, and valet. This pet-friendly building has premium features and outstanding amenities in a premium location.
View all Condos For Sale in Esperante
Esplanade Grande
Esplanade Grande is a 63-unit, exclusive luxury condo building located on Narcissus Street facing the ocean and Intracoastal and is only one short block from the historic and electric Clematis Street and downtown waterfront. Boaters will appreciate the public boat docks and private marina a short walk from the building. These luxury condos range in size from 1900-sq.ft. to over 6,000-sq.ft. and have panoramic ocean and Intracoastal views. The amenities include a rooftop pool and terrace, hot tub, fitness center, club room, 24-hour manned front desk, and valet.
View all Condos For Sale in Esplanade Grande
Flagler Pointe
Properties in this community are absolutely breath-taking. These homes are located in West Palm Beach, Florida off of Flagler Drive. With Intracoastal and downtown views, these residences are amazing! These West Palm Beach condos were CBS constructed in 2001 and are located off of Flagler Drive. Flagler Pointe condominiums are 8 stories with 400 units. They offer Intracoastal views off of vast balconies. Enjoy the sunset and water views from your own home! These condominiums have resort style amenities with a 24 hour concierge, tropical pool and hot tub, game room, putting green and fitness center, you truly have it all from this community.
View All Condos For Sale in Flagler Pointe
Flagler Landing
Flagler Landing Condominiums are located off of Flagler Drive in beautiful West Palm Beach, Florida. These properties have gorgeous Intracoastal views overlooking yachts and beautiful sunrises. These lovely condos were CBS constructed in 2007 and are located within a manned gated community. Flagler Landing offers a 4 story unit with 64 units, and these units span up to 3000+ square feet. With gorgeous lanais overlooking the waterway, you can have your very own piece of paradise. This community offers fabulous amenities and private docks for your boat!
View all Condos For Sale in Flager Landing
Metropolitan
Metropolitan Condos, completed in 2006, offer the location you desire one block from City Place but just removed from the bustle of city life.  This 8-story, sophisticated, boutique-style building is located on the corner of Fern and Sapodilla and has 149 residences. These condos feature a grand lobby, fully-equipped fitness center, 24-hour front desk security, business center with conference room, beautiful roof-top pool and jacuzzi, and a spacious pool deck with dramatic city and Intracoastal Waterway views.
View all Condos For Sale in Metropolitan
Montecito Palm Beach
The condominium tower Montecito Palm Beach is located in the heart of the urban center at 616 Clearwater Park – an easy walk to Cityplace and downtown. The 8 story building, built in 2003, features mostly 1- to 2-bedroom homes with in-unit washer/dryer hook-ups and is pet-friendly for 2 pets up to 30lbs. With 186 total units in the building and features like covered balconies, clubhouse, billiards room, exercise room, spa/hot tub, and a doorman, you'll love this affordable option for high-rise condo living.
View all Condos For Sale in Montecito Palm Beach
One Watermark Place
If you are looking for the most exclusive and luxurious full-service building that downtown West Palm Beach real estate has to offer, you have found it in One Watermark Place condos for sale. This magnificent building made up only 48 residences is situated directly on the Intracoastal Waterway and looks out towards the Biltmore, the renowned City of Palm Beach, and out to the Atlantic Ocean beyond. It is certain to impress the most discriminating of tastes. One Watermark Place, built by WCI Communities in 2003, has residences ranging in size from 4,000-sq.ft. to over 9,000-sq.ft. offering panoramic views of the Intracoastal Waterway and the cerulean Atlantic Ocean. The finishes are worlds above the rest, with gourmet kitchens featuring the finest appliances such as Sub-Zero and Miele. There are many modern conveniences, such as the built-in wine cooler, cappuccino maker, Gaggenau double oven and cooking center. Some of the other features will include large walk-in custom closets with built-in safe, to separate His & Hers baths and dressing areas.
One Watermark Place also offers first-class service to the residents who live there, providing an in-house concierge, doorman, and complimentary valet. The common area amenities throughout the building exude luxury and include a beautiful pool with breath-taking views of the Intracoastal Waterway, private cabanas, and even complimentary towels. There is a private theater, a state-of-the-art fitness center with massage room and lockers, and an impeccable social and board room with televisions, bar, and catering kitchen. Located next to the Palm Beach Yacht Club, One Watermark Place offers one of the most convenient locations to Palm Beach and Downtown West Palm Beach.
View all Condos For Sale in One Watermark Place
Prado West Palm Beach
Resort-style living in the heart of the city can be yours at Prado, 600 S. Dixie Highway, where the condos are located just steps from all the downtown cafes and shops. This terrific 2006 building has 8 floors and 304 condominium residences. Amenities include an oasis pool & spa, clubhouse, fitness center, and attractive lobby. This super-urban location consists of City Commons, Clematis Street cafes, the Mandel library, and all the museums and cultural events within walking distance of your condo. There are some great interior features too, including Roman tubs and walk-in closets.
View all Condos For Sale in Prado
Rapallo North
The 1973 condominium tower offers 19 stories and 156 total units. There is an attractive lobby, pool with tropical gardens, sauna, exercise room, plus security and 24-hour door person. One small pet weighing less than 20lbs is allowed in this pet-friendly building. If you want a great location and some of the best views available in the city, then Rappallo North or its sister building, Rapallo South, may be just right for you!
View All Condos For Sale in Rapallo North
Rapallo South
The 1973 tower features 19 stories and 192 total units. With mostly one to three-bedroom units, the tower is known for unobstructed views of the Intracoastal Waterway, Palm Beach, and the cerulean Atlantic Ocean beyond. The amenities package for these condos offers a pool, library, exercise room, and common laundry. There's an on-site manager, attractive lobby, and bike storage.
View All Condos For Sale in Rapallo South
Slade
If you are looking for a newer building with beautiful water views at a great price, The Slade is for you. Located on Flagler Drive and facing the Intracoastal Waterway, These West Palm Beach condos are set just beyond the bustle of the city but still within walking distance to downtown. This hip, ultra-modern building has two pools, an east pool with an Intracoastal Waterway view, and a west pool with city views. There is a complete business center with computers and printers, a spacious club room with ample seating, bar and pool table, and a state-of-the-art fitness center.
View all Condos For Sale in The Slade
The Bristol
Your new home awaits you at the luxurious condominium building of The Bristol. The iconic 25 story tower offers three to five-bedroom units with up to a staggering 9,000 square feet of living space. Enjoy unobstructed views of the Intracoastal, Atlantic Ocean, and Palm Beach Island form the sparkling glass frontage and wrap around balconies of this gracious building. Luxurious amenities also await you with access to a state-of-the-art fitness center, his and hers spa, beauty suite, outdoor pool plus a children's pool, club room, dining room, a dog walking area, and beautifully maintained grounds.
View all Condos For Sale in The Bristol
The Strand
Located just across from the Meyer Amphitheater and 2 blocks from Clematis Street, living at The Strand puts you right in the center of the action.  From your terrace, enjoy the breath-taking sunrise views overlooking the Intracoastal Waterway and out to the azure Atlantic Ocean. This 15-story, 275-unit building was built in 2002 and converted to condos in 2005, offering one-, two-, and three-bedroom condos. These West Palm Beach condos feature 24-hour front desk security, garage parking, beautiful sun deck and swimming pool, state-of-the-art fitness center, and a beautiful club room with pool table and ample seating overlooking the Intracoastal Waterway.
View all Condos For Sale in The Strand
The Whitney
Built in 2007, The Whitney is one of the newest buildings in downtown West Palm Beach. The location is convenient to both CityPlace and Clematis Street. Walk across the street for dinner and a movie or dance the night away at Blue Martini or one of the many nightclubs on Clematis Street. This 8-floor building has 210 units ranging in size from over 700-sq.ft. to over 2,100-sq.ft., and the ground floor has live/work space. These West Palm Beach condos also feature an amazing rooftop pool and expansive pool deck with a spa, a complete fitness center, a beautiful lobby, and a sophisticated club room.
View all Condos For Sale in The Whitney
Trump Plaza
Located on Flagler Drive and facing the ocean and Intracoastal, Trump Plaza has some of the most magnificent views of the ocean, Intracoastal, and Palm Beach. Built in 1985, it was one of the first luxury condo buildings built in downtown West Palm Beach. The building is comprised of 2 twin 32-story towers and hosts 2-, 3-, 4- and 5-bedroom condos ranging in size from 1900-sq.ft. to over 8,000-sq.ft. with private and semi-private elevators. These West Palm Beach condos also feature 2-level townhouses with large terraces facing the Intracoastal. The amenities at Trump Plaza that recently underwent an extensive renovation include doorman, game room, swimming pool, tennis courts, picnic area, community patio area, fitness room, and sauna.
View all Condos For Sale in Trump Plaza
Villa Lofts
Villa Lofts Condominium Real Estate is an exquisite location off Flagler Drive in beautiful West Palm Beach, Florida. With just a short walking distance to the inter-coastal waterway, these homes are ready for you. These residential properties have gorgeous views of West Palm Beach's Intracoastal Waterway, and are minutes away from dazzling beaches and night life. With endless possibilities of boating, fishing, or simply taking in the sun, enjoy what these Condominium homes have to offer. These properties are in close proximity to I-95 and Downtown West Palm Beach and City Place. Constructed in 2006, Villa Lofts Condominium residencies offer high-class living for those wanting to live the Palm Beach lifestyle. These West Palm Beach condos have grand balconies overlooking the Intracoastal Waterway, with beautiful views of the sunrise. With resort-style amenities to enjoy, this is sure to be exactly what you are looking for. With two luxurious swimming pools and spas you can enjoy Florida's sunshine and warm weather all year long. The clubhouse is equipped with a fitness center and sauna.
View all Condos For Sale in Villa Lofts
Waterview Towers
Waterview Towers, built in 1981, is a full-service building comprised of 132 condo residences with 23 floors. This pet-friendly building is located directly on the Intracoastal Waterway next to the North Bridge and above the Palm Harbor Marina on Flagler Drive. It will captivate you with its panoramic views overlooking the luxury yachts and the Intracoastal Waterway, stretching out to Palm Beach and the cerulean waters of the Atlantic Ocean beyond. The amenities include a heated swimming pool, tennis courts, new fitness center facing the marina and Intracoastal, and a recently-renovated grand lobby. These condos will spoil you with its carefree lifestyle which offers 24-hour security and doorman, concierge, covered parking, and valet.
View all Condos For Sale in Waterview Towers
Sylvia is a fabulous agent. She is very responsive and understands the market conditions. Her best attribute, however, (IMO) is her ability to...
Read More >
Victoria did an outstanding job of helping me find , contract and navigate the remote purchase of a property. Highly recommended.
Read More >
Dear Jeff, I wanted to express to you how impressed with you and your entire team I was from the get-go. I am delighted you secured a contract...
Read More >
Home ECHOnomics...57 Guarantees When You List With Us
With our Home ECHOnomics Guarantee of 57 promises to make sure everything that is supposed to happen, happens, you'll have the best in your corner. So let the Joy, the Beauty, the Logic and the Power of Home ECHOnomics work for you.
How Much Is
My House Worth?
Determine your home's estimated value based on recent home sales in your area
Powered by BoldLeads