Prices went up how much in January 2021?!?
16.3%!
16.3% is how much prices of single-family homes have gone up from last January 2020 through January 2021. The average price of a single-family home in Palm Beach County shot up from $363,000 to $422,000. Asking prices on average are only giving 3.3% off the original listed price. Full prices offers and over asking price for homes that have the right ingredients are the norm.
There is no inventory of single-family homes.  Inventory in Palm Beach County year to year has dropped a whopping 45.7% compared to last January. Last year at this time there were 6,347 active listings on the market.  Now there are a paltry 3,446 in all of Palm Beach County.
Egret Landing in Jupiter has 0 homes available out of 654.  Z-E-R-O!  PGA National has 34 homes available out of 4961.  That's 0.06%.  Normally there are between 100-120 this time of the year. Mirasol  has 10 out of 1164 homes.  So, what does this all mean and what comes next?
  Buyers getting mortgages are at a serious disadvantage and are having to really game plan. Using a local mortgage broker who can move on a dime and talk to the other real estate agent is a must.  Not just having the preapproval but all the paperwork in line is also a must.  We won a deal versus a cash offer this week by getting the mortgage appraisal and loan commitment in 10 days. If Buyers aren't prepared to do this, then they will lose some desirable property.
2.   Closed sales rose only 5.5% from last year. 1154 homes sold versus 1094 homes sold in January 2020.  This could mean a signal that prices increase are slowing. However, we had high sales a year ago so is still keeping pace with that.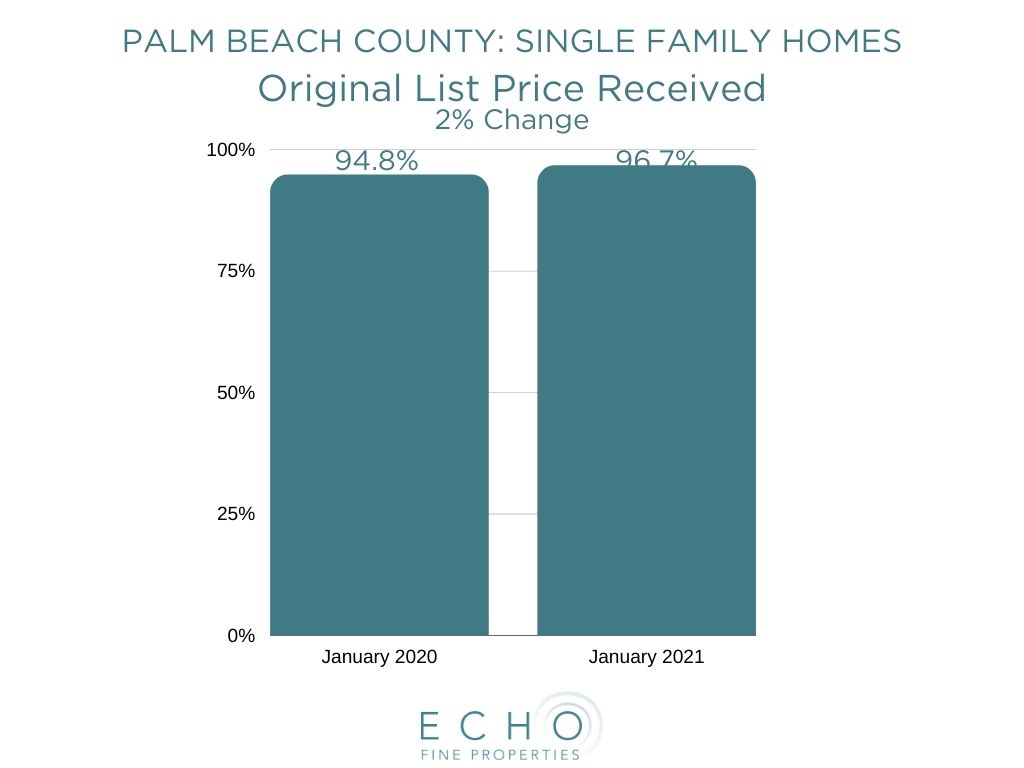 3.   The townhouse and condo category (grouped as one) continues to lag behind single family homes. Most of that is skewed to higher inventory and less sales in condos. Medium prices rose 12.3% and inventory is down significantly at 18.1% but nowhere near the 46.5% of single-family homes.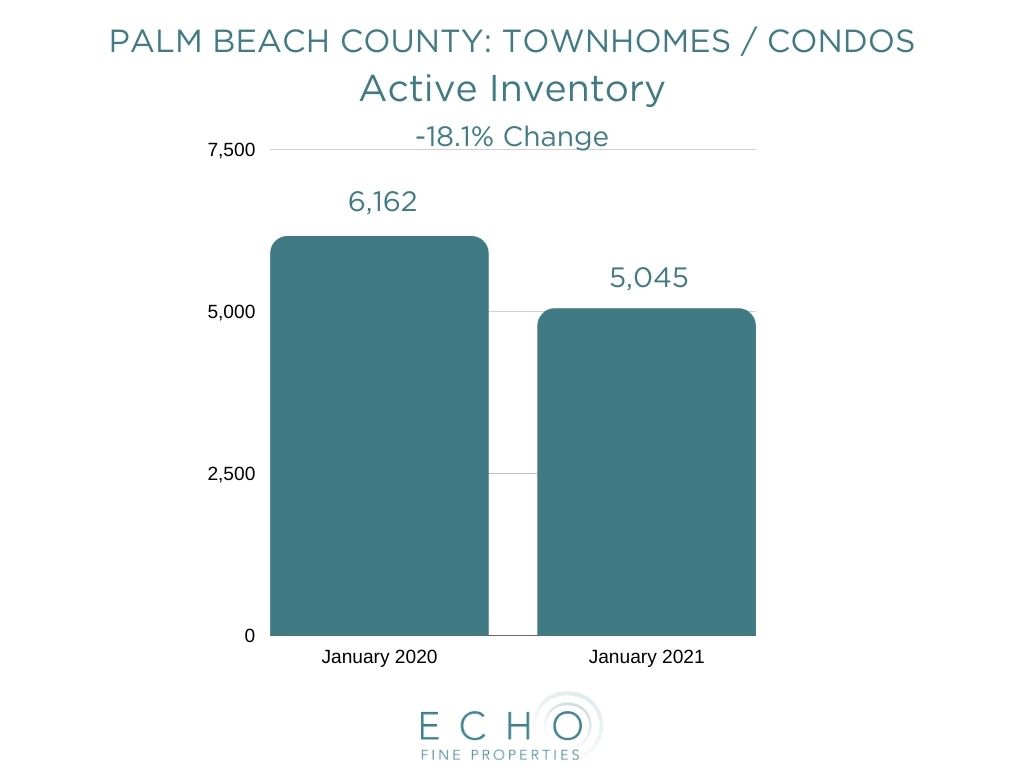 4.   Mid-February – Mid May is the strongest time for sales in South Florida because of seasonality. With no inventory and little new construction in Northeast Palm Beach County, prices will continue to rise as rates are low, more stimulus coming, business movement coming, and the virus situation gets dramatically better.
5.   The condo market could see hyper inflation as the virus situation gets dramatically better. Going up and down the elevator and not being able to travel to South Florida limited sales of condos. As people get vaccinated, there are great buys in condos. Watch for a run, on condo sales, into the summer. Read more on why condo sales could see a dramatic rise in sales.
Jeff Lichtenstein is owner and broker of Echo Fine Properties, a luxury real estate brokerage selling real estate in Jupiter  and homes in Palm Beach Gardens, Florida. He has 20 years of real estate experience, has closed over a 1,000 transactions, and manages over 50 agents in a non-traditional model of real estate that mimics a traditional business model.  Some publications he has been quoted in.
Feel free to ask him a question directly at jeff@EchoFineProperties.com.
We will match you with the perfect
community to fit your needs.
Start Matching
Celebrity Homes
from Beverley Hills
to Palm Beach
Never-before-seen-photos of your
favorite celebrity homes
View More Celebrity Homes
---
Email me when new listings are available!
Email me when my dream home hits the market
Login to view this property
or Create your MyHomes account today?
Don't have an account yet?
In only 30 seconds you will have full access to property, community info and SOLD data you can't get anywhere else.