How using Zestimates and Zillow Can Cost You Thousands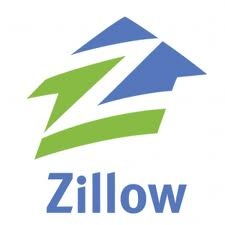 Zillow Zestimates are not as reliable as you might think!
A while back I wrote a blog about why Zillow Is For Idiots. Here a great example of how one seller reaped an additional 30% above the "Zestimate" of their home just by hiring a qualified Realtor rather than settling for Zillow's online estimate as a selling price.
The PGA National home for sale at 110 Woodsmuir Court we were marketing had a Zestimate on Zillow of $758,000 on October of 2014. The property sold for $1,075,000 a few months later!
Zillow was off by 30%!!!
The new owner also put $150,000 in a new roof and impact glass.  So, did they overpay by 30% + $150,000 — or over 40%?
The answer is an absolute NO.
Here's why. We had three offers between $1,050,000 and $1,075,000. What Zillow couldn't see was the house had new floors, with a disasterous step-down in the front taken out. It was decorated to the nines and had beautiful landscaping in all the right places. Proper staging, fixing a major problem, and bringing the outdoors in — along with excellent marketing — did the trick. Now Zillow has increased its Zestimate to $1,024,827.
In this case Zillow wasn't even a guide! (By the way, It goes the other way, too — I've seen the opposite occur where buyers make decisions to purchase because Zestimates are higher than true market value).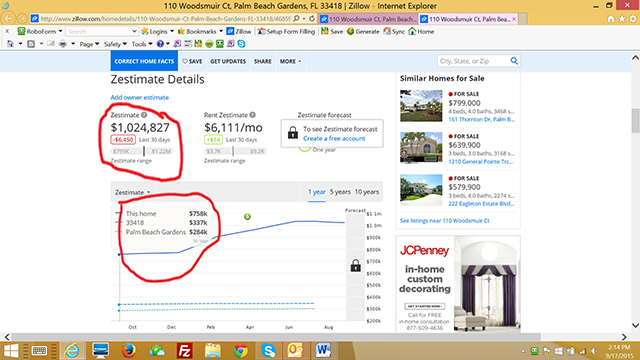 We're living in a fast paced society where everyone wants instant information. The problem is, Zillow can't see upgrades, how a house feels, the floorplan, and other major factors influencing a buyer's decision. Without taking proper care in this crucial step of buying or selling a home, many families let Zillow's shallow, and quite often, outdated information guide them in deciding what a home is truly worth. But by taking this "point and click" approach, many buyers and sellers potentially, as they say in Vegas, leave a lot of money on the table.
The moral of the story is: Zillow and Zestimates are not as reliable as people think. Rely on a certified Realtor or appraiser with on-the-ground neighborhood experience when evaluating a property. These professionals will help you understand upgrades, monies needed in the house, solvable issues, unsolvable issues, and demands for specific floorplans in the neighborhood. These are issues a certified Realtor or appraiser can offer you and help you keep money in your pocket.
Posted in real estate on September 26, 2015 at 6:43 am.
We will match you with the perfect
community to fit your needs.
Start Matching
Celebrity Homes
from Beverley Hills
to Palm Beach
Never-before-seen-photos of your
favorite celebrity homes
View More Celebrity Homes
---
Previous Post >
Palm Beach County FHA Approved Single-Family Homes, Townhomes, Condos
Posted on: by Jeff Lichtenstein
< Next Post
Celebrity homes from Beverly Hills to Palm Beach | Never-seen-before photos of your favorite celebrities
Posted on: by Jeff Lichtenstein
Email me when new listings are available!
Email me when my dream home hits the market
Login to view this property
or Create your MyHomes account today?
Don't have an account yet?
In only 30 seconds you will have full access to property, community info and SOLD data you can't get anywhere else.