Click here for more celebrity homes
Star Wars creator and legendary director George Lucas has his multitude of fans, and the über-anticipated arrival next month of the new Disney-created installment of the Star Wars franchise drives those fans to a nearly drooling state.
But back here on planet Earth, Lucas' very real real-estate dramas have given him detractors, in a real court of law, if not one of social opinion.
Recently, Lucas wanted to expand his production studio in Marin County, California, but when he could not get the approvals because of all of the wealthy neighbors' objections, he decided instead to use the property to build affordable housing, a community center, and a pool for low and moderate income residents. "We've got enough millionaires here," Lucas told the media. "What we need is some houses for working people."
As result of his plan, Lucas and even local officials have received lots of hate mail. Plans are still moving forward and they include an orchard and special housing for teachers.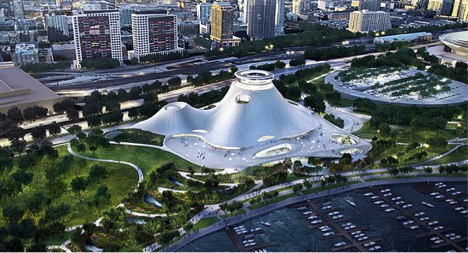 And just this week, the Chicago Tribune reported more legal troubles Lucas and other big-name contributors are having over a proposed arts museum on a lot that shares space with a parking garage and parking lot in downtown Chicago. A local group calling itself "Friends of the Park" claims Lucas and others will profit from the development, and even though it potentially would bring big money to the blighted area, it may violate the public trust by deeding land once held for the common good. The Tribune reports, "Lucas plans to display his art and film collection at the 300,000-square-foot museum, which also will contain several theaters, a library, and a public observation deck." An attorney for the city says the legal squabble centers on whether the museum project is a transfer of public property by leasing it to Lucas and his fellow investors – and whether it benefits the public.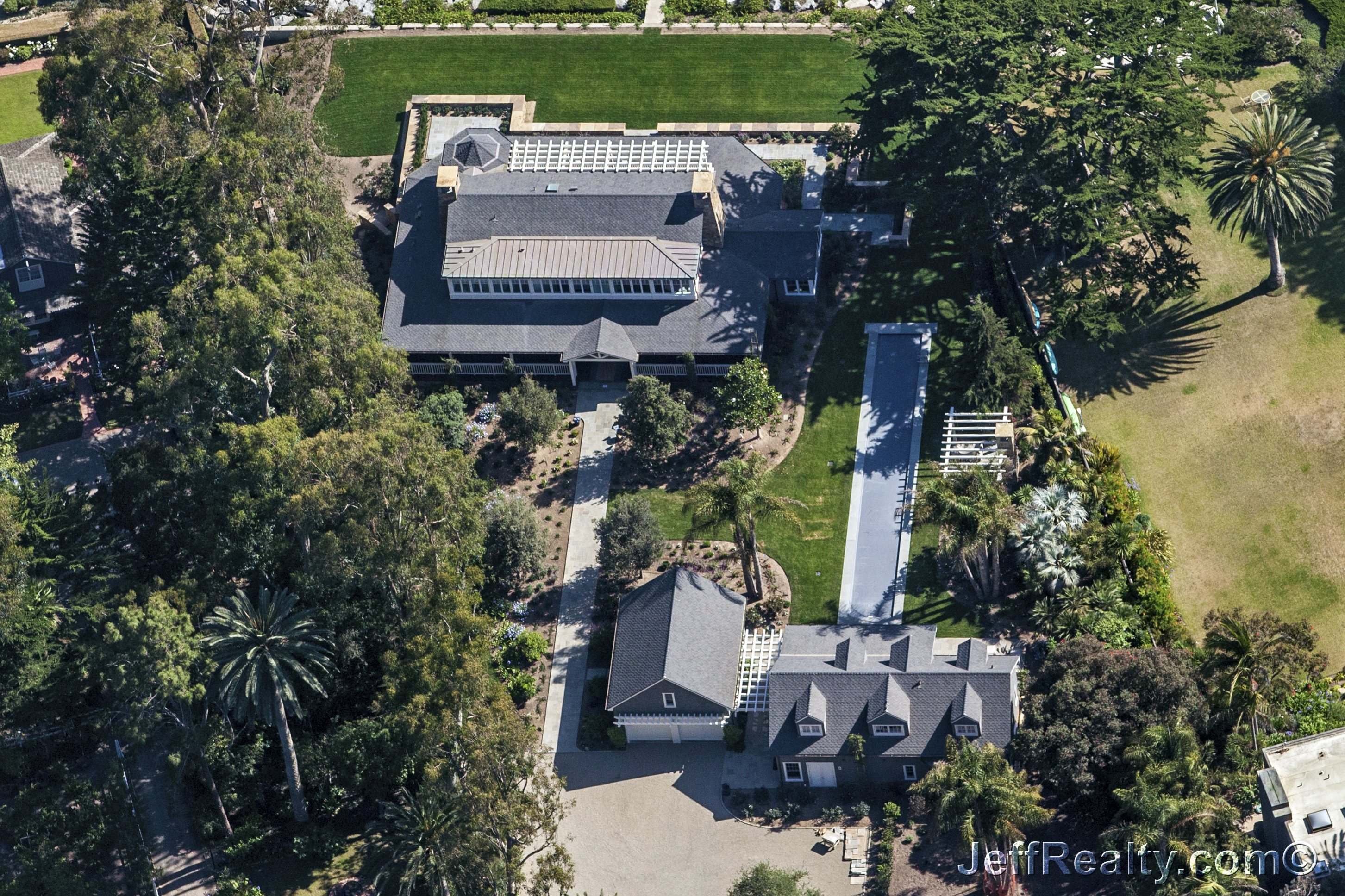 But like Bobba Fett, the notorious bounty hunter on Hans Solo's trail, controversy seems to follow Lucas, even to his waterfront home. Lucas shocked everyone from real estate agents to neighbors when he tore down what architects called a "modernist masterpiece" to build his current home in Carpinteria, California, on the beach. The previous home at 3389 Padaro Lane was designed by sculptor and architect Sherrill Broudy. The new home, designed by architect Appleton & Associates, has 6 bedrooms, 4 bathrooms, and a carport. The thing that strikes us about it is the size compared to that poor cottage to the right. Heck – looks like Lucas' own "cottage" on his property is larger than that one next door. Must be an indie-film maker!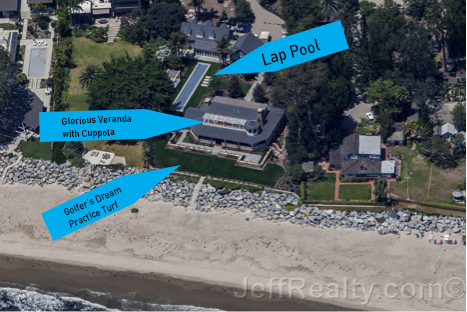 Take a look at that lap pool! We're guessing 60 feet long. With your eye, tip it sideways so it lines up with the house – it's at least as wide as the main part of the house…and is bigger than Lucas' neighbor's entire house. And given the area's arid climate and the unnaturally deep green color of Lucas' "grass", we're guessing that's artificial turf. Makes sense – saves water. And if he ever wanted to do a "golf" movie he could practice with some nice views facing the water. If you notice, the entire home is designed to take in that gorgeous view – with a wraparound veranda and a second-story veranda with a beautiful cupola (no reference to his other director friend, Francis).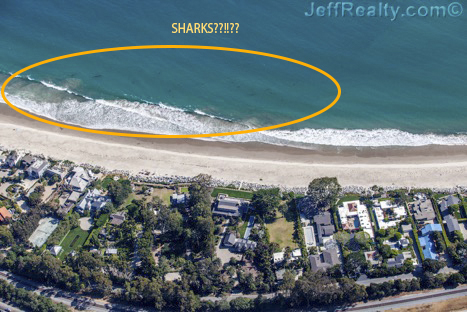 Shaaaaark! We noticed a few other interesting details in these exclusive aerial views of George Lucas' home. Is that Lucas' friend and fellow film-maker Steven Spielberg's way of "reminding" Lucas of Spielberg's own mega-hit, "Jaws"? We hope Spielberg isn't THAT big of a prankster…
But returning to the home itself…
We'll excuse that lack of yard space the film maker has here, since there's more than adequate space at the aforementioned Skywalker Ranch, and even millionaires get squeezed for space when the property is this valuable (and gotta say, LOVE that view, sharks or not).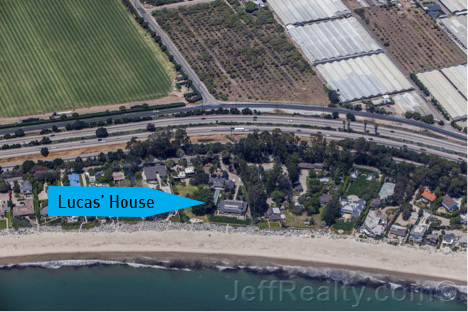 It's interesting to notice who (or what) Lucas' neighbors are across the highway…not alien life forms, not "more millionaires", but produce! So while Lucas and Spielberg and the sunny climes they inhabit might make us think of born-again dinosaurs, bicycle-riding aliens looking for an Über, or giant sharks with a taste for revenge, realize that compared to the vast industry of farming in California, Lucas is just a little fish.
One project Lucas won't be involved in is the new SW installment, "Star Wars: The Force Awakens". Even though Walt Disney purchased his ideas with Lucasfilms in 2012, critics say Disney was not impressed with the storyline taken by Lucas and his suggestions and decided to go an entirely different route with the story. One thing is certain – it won't receive as much controversy as Lucas' real estate projects, which could be titled, "The Developer Awakens".
Click here for more celebrity homes
---
Login to view this property
or Create your MyHomes account today?
Don't have an account yet?
MyHomes lets you do more
In only 30 seconds you will have full access to property, community info and SOLD data you can't get anywhere else.
Login to view this property
or Create your MyHomes account today?
Create an Account
*All fields are required
After you sign up, we will send you a PIN to your mobile phone or email to complete account activation.
Privacy Policy
MyHomes lets you do more
In only 30 seconds you will have full access to property, community info and SOLD data you can't get anywhere else.
Login to view this property
Please verify your account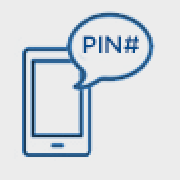 A confirmation PIN number has been sent to your phone