Brand-New Never-Before-Seen Photos & Analysis of Venus & Serena Williams' New Home Addition & Tennis Courts
Click Here for more Celebrity Homes
How timely that injured Venus & Serena Williams have a place to train and play tennis at their home at BallenIsles in Palm Beach Gardens. The sisters' V-shaped estate with 2 massive separate master suites finally has a finished training facility that the sisters can train at without leaving their front door. The sisters applied for permits to do an addition to their home in March of 2010. The just-completed addition is a 4,000 square foot structure with state-of-the-art facilities. The structure can be seen in these first published pictures just past the gated entry on the left-hand side.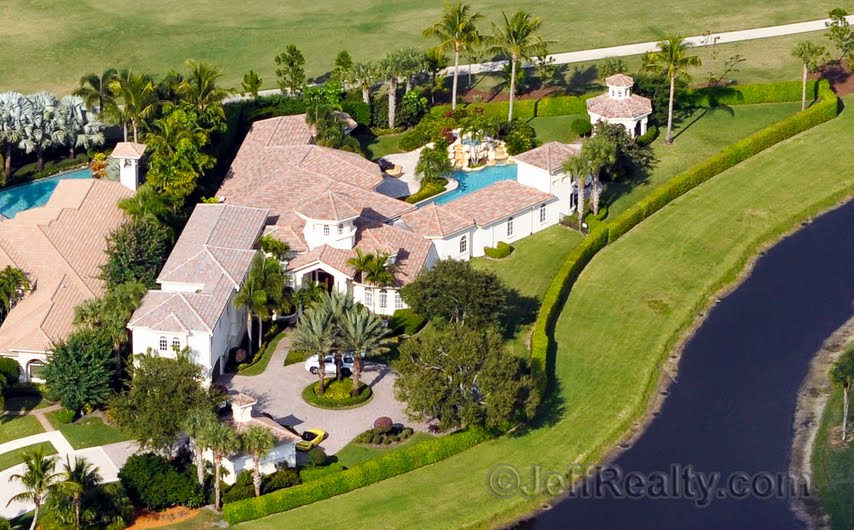 The Williams sisters built their massive estate a decade ago. Besides the unique 2 master wings, the property grounds are triple guarded. BallenIsles Country Club is a manned, gated community of 1562 homes. Grand Key, where they reside, also has its own private gate. In addition, the Williams' own home in Grand Key Estates has its own gate as well. Not even Buckingham Palace has this many gates! The addition still leaves the property with loads of parking, as the aerial shows a plethora of Range Rovers to roam about.
See the BallenIsles homes for sale now
The interior architecture of the Williams home while quite complex in design, is simply stunning looking. Their architect, using a circular theme thru-out, repeated that detail in unique ways in the foyer, breakfast, dining, library and 2 story glass enclosed sitting rooms off each master bedroom. Each sister has massive double walk-in closets with literally miles of hanging space and built-ins. Both Venus and Serena have separate wings and galleries for trophies and mementos. Their master baths are all marble and granite, with beautiful cabinetry.
---
Michael Jordan's House | Tiger's Sports Complex | Venus Williams' Mansion | Celine Dion's House | Donald Trump's Private Club | Burt Reynolds & Friends | Elin Nordegren's Home | Rory McIlroy's House | Rush Limbaugh's Palm Beach Home
---
Surprisingly the Williams Sisters never built a tennis court on their campus and instead chose to train as vagabonds at local nearby communities such as Mirabella. So when BallenIsles spent $26 million redoing its 22 courts and state-of-the-art work-out facilities, the members included the "2 Blue Williams Courts" for their treasured residents. BallenIsles new Sports Complex also contains a magnificent spa, 62,000 square feet of workout equipment, tennis pro shop, and a gourmet Bistro decorated in warm woods with a curved wood-paneled ceiling.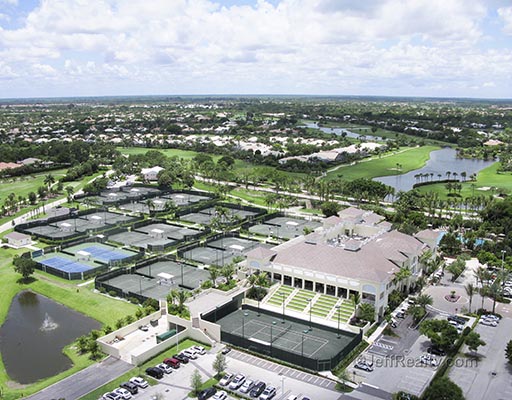 19 of the 22 courts are clay, which is what most of the snowbird retiree residents desire because it's easier on the knees. Venus and Serena need to train on Har-Tru courts and the BallenIsles residents built these special courts especially for them. Both the men's and women's professional tennis tours see a high percentage of the hard courts that they play on built by HarTru. That is the standard in hard courts for the tennis professionals. Several years ago at the Australian Open, they experimented with the new blue color and the players found it much easier to pick up the yellow tennis ball against the blue background as opposed to the traditional green background. This is why the 2 blue courts were built, so that Venus and Serena could most accurately mimic the conditions under which they play when they are competing. As for positioning of the court in the SE quadrant, it would give more shade and therefore be cooler early in the mornings when they practice than if it were situated anywhere else.
BallenIsles also included a Stadium Court with bleacher seating and indoor skybox lounge viewing capacity. The stadium is perfect for exhibitions and many pros from Ivan Lendal to Aaron Krickstein stop by to play, with fees ranging from $2,500 to $10,000. The Williams sisters in comparison command well in excess of $100,000 appearance fees.
At the same time BallenIsles built this, they also redid their East golf course, restoring the Dick Wilson gem with authentic Wilson deep bunkers and contoured greens. The entire course was expertly reshaped, regressed with state-of-the-art celebration grass, drought resistant where the ball sits up beautifully in the fairways.
Both sisters are active in business other than tennis. Venus is a sensational decorator and her Jupiter-based VSTAR Interiors has decorated some of the most posh Jupiter-based estates and would have decorated the Olympic Village in 2012 had it occurred in New York. I stopped in on VSTAR a few years back and was lucky to have Venus give me a tour around her studio. She is hands on and knows her fabric and design. Serena has recently obtained her nail technician's license and has a line of beauty products.

---
Michael Jordan's House | Tiger's Sports Complex | Venus Williams' Mansion | Celine Dion's House | Donald Trump's Private Club | Burt Reynolds & Friends | Elin Nordegren's Home | Rory McIlroy's House | Rush Limbaugh's Palm Beach Home
---
---
Login to view this property
or Create your MyHomes account today?
Don't have an account yet?
In only 30 seconds you will have full access to property, community info and SOLD data you can't get anywhere else.