Steeplechase | Premiere Estate Home Community | Discover Spacious Living
Steeplechase | Premiere Estate Home Community | Discover Spacious Living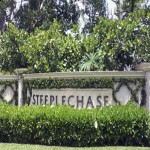 Steeplechase in Palm Beach Gardens is a premiere estate home community
Steeplechase has 325 custom-built homes, each on a lot of an acre or more in size
Steeplechase is a community which caters to those people who want more space in their lives, whether it is indoors or out
The minimum home size in Steeplechase is 2500 square feet, with some of the larger homes measuring more than 7000 square feet under air conditioning
Many homes have lanais, summer kitchens, pool decks, balconies, tennis courts, and multi-car garages
Steeplechase is strictly a residential community, with no clubhouses, community pool or golf course, a place to discover spacious living
Florida's finest builders showcased their talents, resulting in a community where each home is different and custom built
Located in the heart of Palm Beach Gardens, Florida, Steeplechase puts its residents just minutes from the finest country clubs in the area, most of which are happy to accept annual or equity memberships from non-residents
Steeplechase is located just east of the Florida Turnpike between Northlake Boulevard and the Beeline Highway, 2 miles from I-95
Jeff's website is the best place to stay up-to-date about all of the happenings in Steeplechase homes for sale
Posted in Homes For Sale, Palm Beach County homes, Palm Beach County homes for sale, Palm Beach County real estate, palm beach gardens, palm beach gardens homes, Palm Beach Gardens homes for sale, palm beach gardens real estate, Palm Beach Gardens real estate for sale, real estate on May 23, 2010 at 6:00 pm.
We will match you with the perfect
community to fit your needs.
Start Matching
Celebrity Homes
from Beverley Hills
to Palm Beach
Never-before-seen-photos of your
favorite celebrity homes
View More Celebrity Homes
---
Previous Post >
San Michele | Learn The Secrets Of Private Estate Home Living | Gated Community
Posted on: by Jeff Lichtenstein
Email me when new listings are available!
Email me when my dream home hits the market
Login to view this property
or Create your MyHomes account today?
Don't have an account yet?
In only 30 seconds you will have full access to property, community info and SOLD data you can't get anywhere else.