Red Corner | Jupiter Restaurant Review
The Red Corner is on the corner of Indiantown Road and US Highway 1. We thought it was going to be just the next Chinese restaurant but it encompasses much of the Far East and does it with sophistication and excellent taste.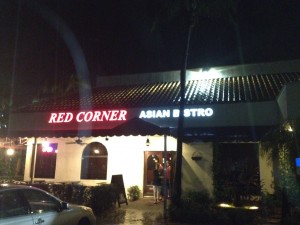 First of all, the décor is excellent. It's really a great room plan if I could compare it to a house. To the right is seating and a large bar with a few flat-screen televisions. Straight ahead is the sushi bar. Behind that is the kitchen. Glass with colored florals inside gives you a peek of the kitchen but hiding a direct view. To the left is plentiful seating. Soothing red and burgundy colors mixed with Asian sculptures take you away to the Far East.
We started with the Vietnamese Summer Rolls; cooked shrimp, rice noodles, peanut cucumber, lettuce and basil leaves. It was heavenly and light, served with a sweet & sour sauce. Not since I lived in downtown Chicago could we find anything like this. We also tried the Peking Duck Crepe, Asian Lettuce Wraps and Shanghai Pot Stickers (with shiitake mushrooms and balsamic).
For our main course we had some sushi. You can really go to town on the sushi. The pink sandwich is excellent. On another trip we tasted the Szechuan Filet Mignon Cubes which is served on a sizzling plate. The Birds Nest (lobster, scallops, shrimp in potato taro) was also delightful!
The Red Corner is located at 251 S US Highway 1 in Jupiter, Florida 33477, right across from the Jupiter Yacht Club condos for sale . They can be reached at (561) 747-2988.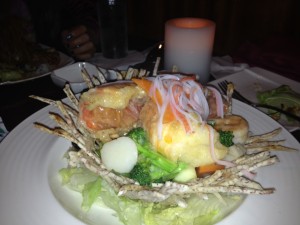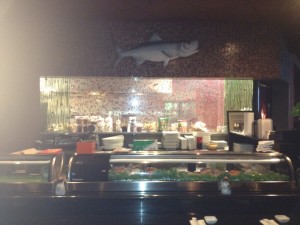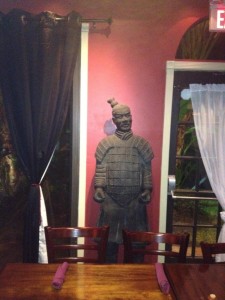 We will match you with the perfect
community to fit your needs.
Start Matching
Celebrity Homes
from Beverley Hills
to Palm Beach
Never-before-seen-photos of your
favorite celebrity homes
View More Celebrity Homes
---
< Next Post
How Important is Landscaping When Putting a Home on The Market?
Posted on: by Jeff Lichtenstein
Email me when new listings are available!
Email me when my dream home hits the market
Login to view this property
or Create your MyHomes account today?
Don't have an account yet?
In only 30 seconds you will have full access to property, community info and SOLD data you can't get anywhere else.