Sylvia's Spotlight on Local Business – The Chocolate Spectrum
Located in the Jupiter West Plaza on Indiantown Rd., just down the road from Rialto, The Chocolate Spectrum is serving up delightful artisan chocolates while supporting the autism community one truffle at a time.
Scroll to end of post to receive 10% off Limited Edition Holiday Chocolate Selections.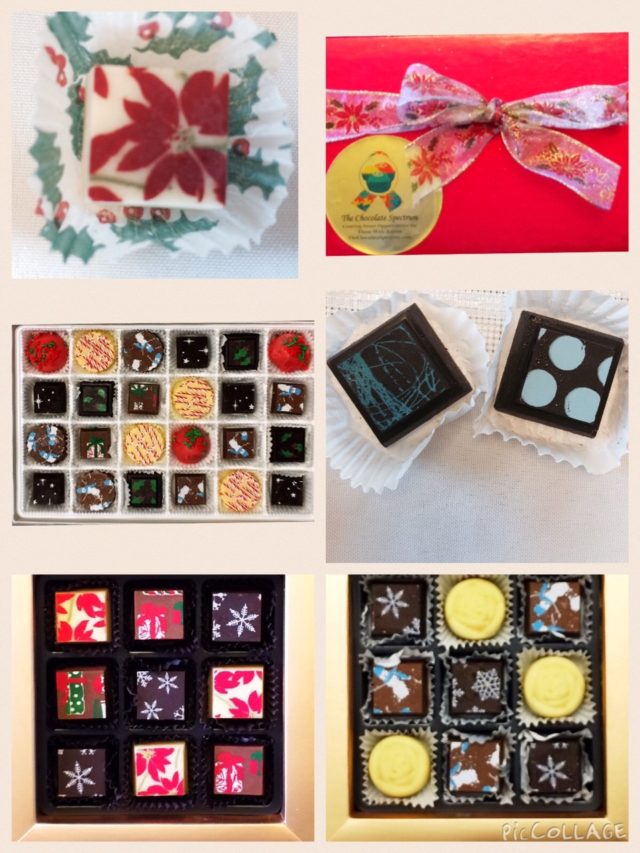 The Chocolate Spectrum is a family owned and operated artisan chocolate company. It was started by Valerie Herskowitz for her son, Blake, who is a young man with autism. They began with one young man and now have over 12 differently-abled individuals in their program. Their mission is to offer delicious chocolate confections while also helping individuals with special needs. They accomplish this two ways:  By providing individuals with developmental disabilities training and by providing employment opportunities in some circumstances. In addition to training, each participant has the opportunity to engage in meaningful and purposeful experiences with an emphasis on social interaction.
Valerie's Story
She hasn't always been a skilled chocolatier. Valerie became a speech therapist 38 years ago and specialized in the field of autism. This was prior to starting a family. She had a son, Blake, who ended up being diagnosed with autism. Because of Blake, her whole world became about autism. Her focus became helping people with special needs to be included in the community.
She encountered obstacles when trying to find activities and programs for her son. When she would take Blake out into the community, she had horrible experiences. She was committed to getting Blake whatever he needed. That was the impetus for opening a therapy center. Rather than become disheartened, she took action. For instance, when she was unable to find camp or gymnastics programs for kids with special needs, she decided to establish her own programs.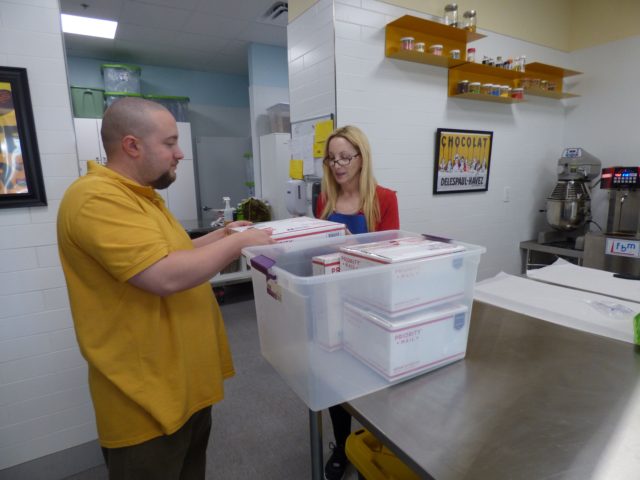 Valerie and her husband established the National Autism Registry in 1999. The mission was to provide opportunities for individuals with developmental disabilities and their families to engage in community-based experiences that were not available to them due to the difficulties of the individual with developmental disabilities. Valerie became an anchor of support for the families in the community with children on the spectrum. She would often throw get togethers at her home where she provided therapy sessions. They grew to be large pot luck family gatherings where everyone could feel comfortable and have fun.
In 2008, Valerie had an opportunity from the Unicorn Children's Foundation which is an international non-profit organization dedicated to children and young adults with developmental, communication, and learning disorders through education, awareness, and research so that they have every opportunity to lead productive and fulfilling lives. They gave Valerie a small grant which enabled her to sell her therapy center. She began teaching as professor of speech therapy. She wrote a couple of books. She continued to be active in the autism community.
This is where the chocolate comes in…Cake decorating was on Valerie's bucket list. She started off taking some cake decorating classes. Then she decided to learn the skills of a pastry chef. She trained with a private chef for two years. She loved the chocolate work and decided to become a certified chocolatier. She entered the online Professional Chocolatier Program with Ecole Chocolat.
After Blake graduated from high school, Valerie had exhausted all avenues in trying to find something for Blake to do. Blake had enjoyed working with her in the kitchen. They started a small venture called Blake's Cakes and sold some of their custom cakes. Eventually Valerie decided to focus on chocolate. Chocolate was more intriguing than the cakes. She didn't set out to make a business of it. It just happened naturally after making it exclusively for friends and family. She and Blake began making chocolate and selling it online. The word spread and parents with kids with special needs began asking Valerie if they could come to her house. She offered complimentary group chocolate making classes which was a fun activity.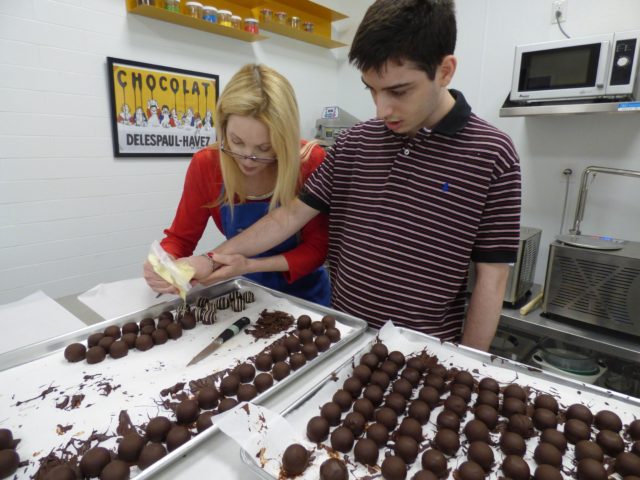 Eventually they grew out of her home kitchen and established a store on Indiantown Rd in Jupiter. They make all the chocolates in their store kitchen and have a beautifully stocked case full of chocolate delights. They offer fun chocolate making and pastry classes for all ages. Check out their Facebook page for updates on fun events. They also take online and phone orders and ship all over the world. The Chocolate Spectrum employs adults on the spectrum and gives them opportunities to build confidence and learn specific skill sets and responsibilities. Her employees are paid from their sales profits. Valerie does not take a salary herself. She still continues to work as a professor of speech therapy. Their tight knit team depends on her guidance and is like a second family. There is a movement today to try and establish employment options for people with autism and Valerie is very proud to be a part of this movement.
Click here to shop online for Limited Edition Holiday Chocolate Selections. Receive 10% off if order placed by December 15. Use coupon code: jeff10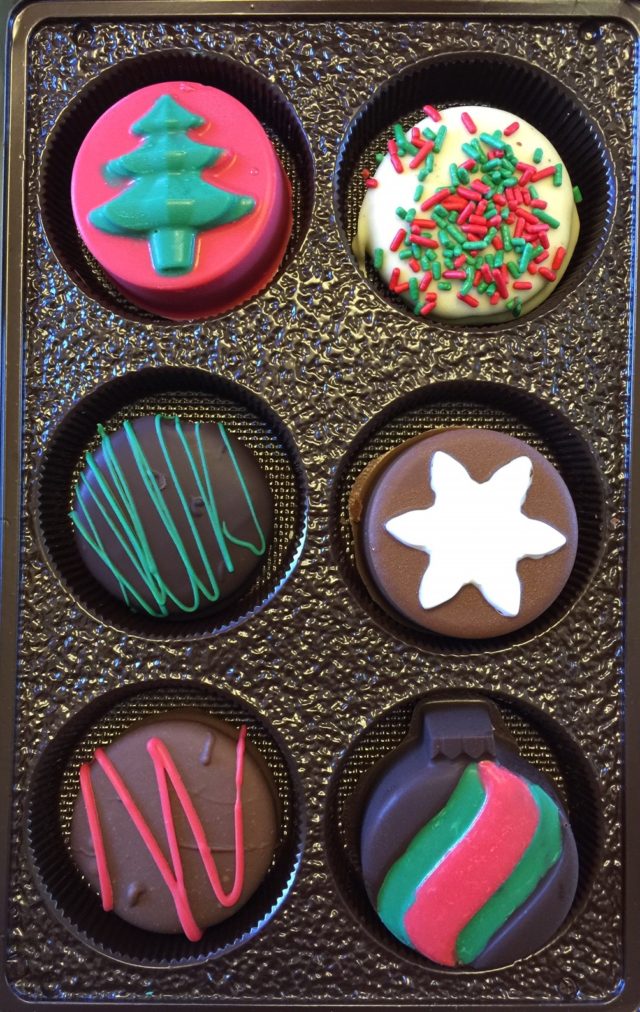 Would you like to be featured in the Rialto Resident Spotlight or know someone who would? Let us know! Send an email to Sylvia@JeffRealty.com.
Sylvia Isaacs is available to handle all your questions and real estate needs. Give her a call at (561) 371-6610 or email her at Sylvia@JeffRealty.com.
Thank you,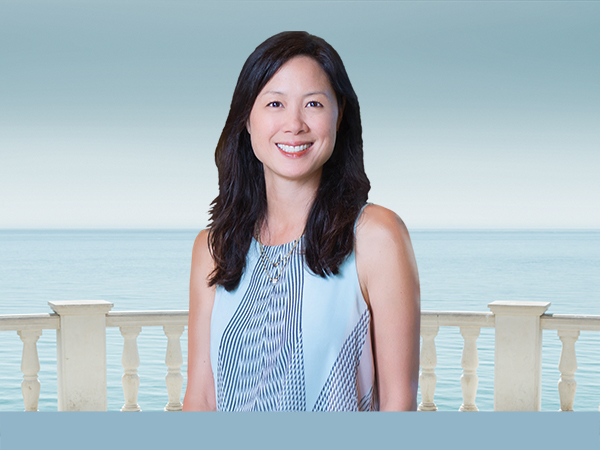 SYLVIA ISAACS
RSPS, e-PRO, REALTOR
sylvia@JeffRealty.com
561.371.6610
JEFF & CARY LICHTENSTEIN
We Make Your Home Our Business
7100 FAIRWAY DRIVE, SUITE 44
PALM BEACH GARDENS, FL 33418
F: 561.277.2500
JEFFREALTY.COM
CLIENT REVIEWS AND COMMENTS
You can read my full Bio here.
---
Login to view this property
or Create your MyHomes account today?
Don't have an account yet?
In only 30 seconds you will have full access to property, community info and SOLD data you can't get anywhere else.