Abacoa in Jupiter | The Square Grouper
Abacoa in Jupiter was featured last week on HGTV 'House Hunters'. In 'House Hunters', buyers look for a new home with an agent who has picked out three homes for them from which to choose. After carefully considering each home, they pick one and purchase it. The idea is that we viewers will watch along and before the buyers make their decision, we will try to guess which they picked and why based on their comments during the showings. The finale of each show is visiting the buyers a couple of months after they have moved in to see how they have adjusted to and/or changed the house.
This week as I was preparing to change the channel, I saw a shot of a woman in a boat with our famous lighthouse in the back. We don't see Jupiter featured on many national TV shows, so I watched.
In the plot, Tina, a self-professed 'cougar', wants to move from her rental in Delray Beach to Jupiter to buy a house near her friend Cat, who we might assume is also a 'cougar'. What's the saying about birds of a feather? Tina likes the laid-back, tropical feel of Jupiter, and in addition to the opening shot of her in the boat, we see her and friends stirring up things at a local watering hole on the Jupiter Inlet called The Square Grouper. Google the term square grouper for a little more coastal insight, since this phrase has more than one meaning.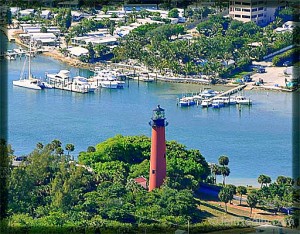 So Tina, recently divorced, is out to make a fresh start on her own. A cougar out on the prowl. And she wants to prowl around Abacoa.
Homes for sale in Abacoa include townhouses and condos, as well as single family homes. Enlisting a local agent, she and Cat go over a few choices in Abacoa, as well as the neighboring community of North Palm Beach Heights, also called Jupiter Heights. But these single-family homes seem to be just a little mundane to the now uncaged Tina. She makes an offer on one home, adding some contingencies so she can change her mind if something more attractive comes along.
Eventually she buys in Abacoa, near gal-pal Cat and close to the Square Grouper. Near the end of the show we see her in an Adirondack chair at the Grouper inviting some guys to come join them, 'We don't bite', she says. And the parting shot shows her and her real estate agent turned friend heading out for a round of golf at the Abacoa Golf Club. I guess this shows that in Abacoa there's a little something for everybody. Anyway, try to catch the replay of the show sometime.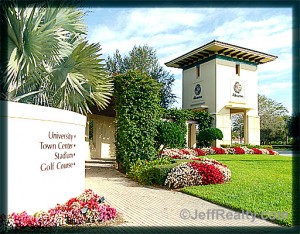 We will match you with the perfect
community to fit your needs.
Start Matching
Celebrity Homes
from Beverley Hills
to Palm Beach
Never-before-seen-photos of your
favorite celebrity homes
View More Celebrity Homes
---
Email me when new listings are available!
Email me when my dream home hits the market
Login to view this property
or Create your MyHomes account today?
Don't have an account yet?
In only 30 seconds you will have full access to property, community info and SOLD data you can't get anywhere else.