About Wendy
MILITARY WORK ETHIC & WIN-WIN
Wendy Swanson will work hard for you! She was a logistics specialist in the United States Navy, the perfect background for matching and finding homes for her clients. The Navy gave her great calmness under pressure, structure, and keeps her follow-up and organization better than most. She believes and is a master of the Win-Win. Her empathy for others lets her see the other side's point of view. Oftentimes deals fall apart because of little things that are important to the other side but never get communicated. Wendy listens to the other Realtor and negotiates tirelessly to find common ground for her clients' benefit.
HORSES, BEACH, PRICE
Most people buy because of location, location, location. For Wendy and her husband, Eric, it's horses, beach, and price.
HORSES
#1 - Wendy knows the equestrian and 1-acre plus communities like the back of her hand. She has been riding since age 8 and can be found riding with her friends and clients on her horse, Verande, in her spare time. From Jupiter Farms to Ranch Colony to Caloosa to Palm Beach County Estates, Wendy knows all the barns, clubs, boarding facilities, shows, and everything you would want to know.
THE BEACH
#2 - Originally from Santa Monica, her 2nd requirement is to be close to water. She loves the Florida sunshine and water sports and knows all of the condominiums and communities along the coast.
PRICE
# 3 on her list was that the area be affordable. Not only do the northern Palm Beaches have so much to offer in the way of culture, temperature, airport proximity, sophistication, and people, but it's so much more affordable in both prices and taxes than other spots in the area.
ON YOUR TIME!
Wendy gives it her all for you and is happy to show a Buyer 50 homes if need be or work to get the perfect price for a home she is selling. She is fascinated by the transition of moving. It's the beginning of a whole making-of-memory adventure experience or moving on in someone's life. It's a major financial asset and being part of such an important chapter drives her to work tirelessly for her clients.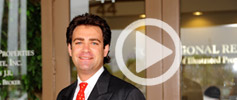 Jeff's video blog. Learn all the Tips and tricks of buying and selling Palm Beach Gardens real estate from Jeff himself.
Tune in now!
Jeff feels that picking your agent is like picking your doctor for delicate surgery. You want someone with an impeccable reputation, vastly experienced in negotiations...
Learn More

With over 8.9 Million Internet hits per month from CHRISTIE'S alone, Jeff's affiliations with Illustrated Properties, Leading Real Estate Companies of the World, Luxury Real Estate, Luxury Portfolio...
Learn More