About Jill
CONNECTING PEOPLE
Jill Combs operates meticulously behind the scenes as Sara Swanson's Assistant and Client Concierge to Jeff Lichtenstein of Echo Fine Properties. If you are looking to purchase a home, sell a home, or just merely looking to obtain community information, you will find her eagerly waiting for you to call to help you get the answers you need. She makes every effort to connect you with one of our area experts and seasoned sales agents who will meet your specific needs. When our expert agents are out in the field, Jill will help provide the all-important link between you and your agent, ensuring nothing gets missed.
GETTING TO KNOW YOU
Jill has an extensive background in customer service and client care. Growing up, Jill spent most if not all her time being the planner of events in school, and in prior employment positions you would find her managing, communicating, and engaging with customers on various levels. Jill has a Psychology degree which attests to her love of people and her fascination and understanding of the way we think. She also has a Massage Therapy degree. It is Jill's joy to service and interact with clients daily; it is truly her calling to work with people and keep them happy. When Jill is not helping build relationships between our clients and our agents, she is most likely with her family of 3 children and a husband.
REAL ESTATE
After graduating from the Florida Atlantic University with her Bachelor's in Psychology, Jill decided to start working in her field with the public-school system as a school psychologist. She and her husband then planned a family. After being a stay at home mom of 3 for some years, Jill wanted to learn a new skill and so she went back to school for Massage Therapy. When her husband was offered a job in West Palm Beach and the family moved, Jill once again applied her many skills to a new field – Real Estate. Being a Client Concierge and Administrative Assistant is truly right where she belongs! With over 12 years office managerial experience (and loving every minute of it), Jill's positive outlook, cheerful ways, fast learning, and outgoing personality have helped her succeed in exceeding client expectations on all levels.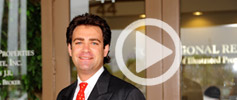 Jeff's video blog. Learn all the Tips and tricks of buying and selling Palm Beach Gardens real estate from Jeff himself.
Tune in now!
Jeff feels that picking your agent is like picking your doctor for delicate surgery. You want someone with an impeccable reputation, vastly experienced in negotiations...
Learn More

With over 8.9 Million Internet hits per month from CHRISTIE'S alone, Jeff's affiliations with Illustrated Properties, Leading Real Estate Companies of the World, Luxury Real Estate, Luxury Portfolio...
Learn More